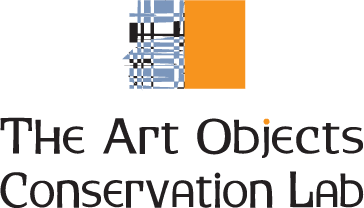 The Art Objects Conservation Lab is dedicated to the conservation and restoration of artworks. We preserve artistic authenticity and restore the original beauty of objects from different historical periods and various provenance.
During our work, we follow the principles emphasized by the American Institute for Conservation, with which we are professionally affiliated, to perform the conservation treatments with a respect for the unique character of every art work and its creator; we must remember that our intervention should not lose this character, and be as discreet as possible.
We perform work which prevents the original substance from experiencing further deterioration, using materials and methods that are reversible and safe for the object and conservator.
The appropriate choices always result from close examinations and tests on the object. The condition of the art work as well as the entire conservation process is always documented in the form of written reports and photo documentation.
We are also prepared for cooperating with scientists and other conservators to achieve the best result.
The Art Objects Conservation Lab was founded in Oak Park by Margaret Sawczuk and Tomasz Slabonski in 2007, however the beginning of Margaret's conservation experience goes back almost 25 years to Cracow, Poland. There, in the magical atmosphere of the Baroque and Renaissance art of the medieval former capital, Margaret's first studio was established, shortly after completing her studies at the Faculty of Conservation and Restoration of Works of Art at the Academy of Fine Arts in Cracow. She holds a Master's degree in Art Conservation.
In Europe, she conducted conservation projects on wooden polychromed sculptures and altars in Polish churches, and Baroque wall paintings and frescoes in Austrian monasteries and cloisters in the picturesque old villages of Heiligenkreutz or Gaaden, where she worked many long years.
Today, Margaret is the Director and Chief Conservator of The Art Objects Conservation Lab, focusing particularly on her passion for sculptures, ceramics, and paintings.
The 2,000 square ft. laboratory, located at 820 S. Oak Park Ave. in Oak Park, specializes in the restoration of paintings, sculptures, objects and ceramics, frames, and Biedermeier furniture. We also offer the highest quality gilding in different techniques, including the complex traditional water gilding.
Our work ranges in size from the restoration of individual works owned by private collectors, to large-scale public works such as the conservation of sandstone walls at Loyola University Library or one of the most beautiful high altars at St. John Cantius Church in Chicago. Among our clients also are:
Chicago Botanic Garden
Oak Park Public Library
Granda Liturgical Arts
St. Stanislaw's Kostka Church in Chicago St. Walter Church in Chicago
Epiphany Church in Chicago
St. Clement Church in Chicago
St. Odilo Church in Chicago
Holly Trinity Church in Chicago
Galleries and Private Collectors from around North America.
We are fully equipped and prepared to accommodate every location and scale.
We offer our services to art galleries, collectors, entrepreneurs, auction houses, interior architects, insurance companies, as well as institutions or anyone in the possession of art works.